Nominations for the second Touristico Gaylive Awards have been announced.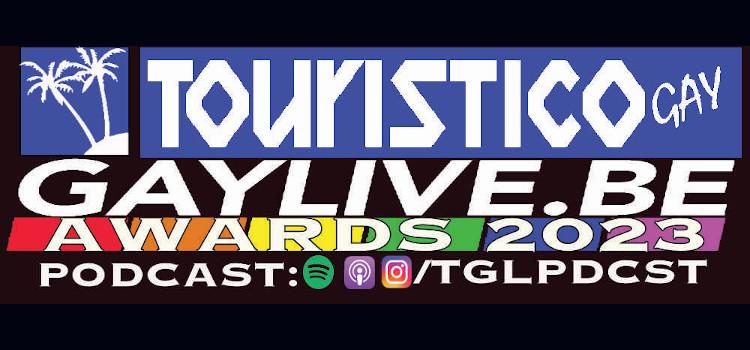 For the second consecutive year, the LGBTQ websites Touristico Gay and Gaylive.Be are presenting their Awards. The nominees in the six categories were announced in the latest episode of their joint podcast, available as of today on most podcast platforms. This year, awards will be presented in six categories.
Until the beginning of September, podcast listeners and visitors to both news sites could submit their favorites in five categories (LGBTQ Establishment, Belgian LGBTQ Event, Foreign LGBTQ Event, Tourist Event, and LGBTQ Party Concept). About eighty respondents listed their favorite establishment and/or event. Last year's winners couldn't be nominated again in the category they won (Antwerp Pride (Belgian event), Marie-Antoinette (LGBTQ establishment), Pinkies (Party concept), Ivana's crazy bustour (Tourist event)). Presenters Marc Dirix and Sven Boutsen looked at the news from the past year for the LGBTQ Icon Award and selected the five nominees for the TGLPDCST Icon Award.
The nominees in the six categories are listed below. You can vote until December 20th.
TGLPDCST Award LGBTQ Establishment
In this category, ten establishments mainly targeting the queer community are nominated.
Jeffrey's Antwerpen
Maskara Borsbeek
Twilight Antwerpen
DeLux Antwerpen
Random Antwerpen
La Reserve Brussel
Le Baroque Brussel
StammBar Brussel
Hessenhuis Antwerpen
Le Belgica Brussel
TGLPDCST AWARD: LGBTQ Belgian Event
Bearpride Brussels
The annual election of Mister Bear Belgium in Brussels is not just about the mister competition. During the week, many workshops are also organized with a focus on body positivity. At the end of September, a new Mister Bear Belgium will be chosen again.
Darklands
Darklands is the annual mecca for all fetish and kink enthusiasts. Over the past years, the event has evolved from solely a leather event to a multi-day event that also pays attention to emerging kinks such as puppy play and ABDL.
Unicorn Festival
Unicorn Festival is a two-day music festival that labels itself as unique and open-minded. During the festival, you'll be treated to the best electronic dance music, art, and much more. The mission of the organizers is to bring back openness and friendliness to society.
Belgian & European Pride
From this year on, the Belgian Pride in Brussels has transformed into the Belgian & European Pride. This year, the pride in Brussels underwent a major transformation with the reintroduction of parade floats and multiple stages spread throughout the city center.
Miss Travesty Belgium
Since 2021, a new Miss Travesty is chosen annually. The competition has gained visibility in recent years, and the quality of the participants and winners has significantly increased in the last few years.
TGLPDCST Award Foreign LGBTQ Event
Roze Zaterdag Goes
Roze Zaterdag is an annual celebration highlighting the visibility of the Dutch queer community in a different city each year. This year, Roze Zaterdag was organized for the first time in the province of Zeeland and the Christian municipality of Goes.
Pride Amsterdam
This year, Pride in Amsterdam celebrated its 25th anniversary, and it's no longer just about the Canal Pride. In the week leading up to the boat parade, as many as 300 different activities were organized, including a Queer Walk, various exhibitions, and of course, numerous parties throughout Amsterdam.
Milkshake Festival
Milkshake is the epitome of inclusive festivals. The event in Westerpark of Amsterdam was first organized in 2012 and still has a significant appeal to the LGBTI+ community and allies in the Netherlands and even beyond its borders.
Roze Maandag Tilburg
Another mainstay from the Netherlands is Roze Maandag in Tilburg. The annual Tilburg fair is immersed in a pink atmosphere once a year and gets flooded with queers from all over the Netherlands and many Belgians.
Gay Pride CSD Cologne
Cologne can easily be termed the Gay Capital of Germany. Each year there is a spectacular gay parade on the first weekend of July. During the inaugural festival in 1991, only 3,000 visitors attended. Now, almost a million people come to Cologne for this event.
Folsom Europe/Berlin
The slightly more kink-oriented queers travel to Berlin every year at the beginning of September for Folsom Europe. For this, our German neighbors took inspiration from the Folsom Street Fair in San Francisco in 2004, but the event, according to enthusiasts, has long surpassed its American counterpart and is now considered one of the most significant gatherings for the leather and fetish scene in Europe.
TGLPDCST Award : LGBTQ Party Concept
Padam
T-dance for gays and friends that has been around for more than ten years. Pops up at various locations in Antwerp. A party of love and friendship in an open atmosphere.
Woodpop
Stands for love, peace, and pop music in a tolerant and open-minded atmosphere. Held in Antwerp and Brussels.
Queerfest
The annual party during Antwerp Pride by cafe twilight and De Cock. This year featuring, among others, Terrazza and Roof of Love.
La Demence
La Demence is a party for gays, held monthly in Brussels since the early 1990s. La Demence attracts many foreign visitors and also organizes an annual cruise holiday.
La Tash & Friends Weekly party concept by showqueen La Tash at the Hessenhuis where she invites a colleague for performances and games.
TGLPDCST LGBTQ Icon Award
Champions of Same-sex Marriage
This year marks the twentieth anniversary of same-sex marriage. It was established in 2003 after a long struggle by various activists from, among others, the Federation of Homosexuality Working Groups, the current Cavaria, and many political allies from various parties. This nomination is a tribute to the work they accomplished back then.
Andy Walgraef (Mister Leather Belgium & Europe 2022)
In 2022, he was elected both Mister Leather Belgium and Mister Leather Europe, and his mission was to bring all fetish communities closer together. Over the past two years, he has been the face of the Belgian and European leather community, and at the next Darklands edition, he will organize the first Mister Fetish World competition.
Bram Bierkens (Mister Gay Belgium)
For ten years, he has been searching for an ambassador for our country who also successfully represents the Belgian gay community on the European level. His competition served as an inspiration for other similar events.
Geert Buytaert (owner of The Boots)
Since 1983, The Boots has been the go-to place in Antwerp for the Belgian leather community, and since September 2004, Geert Buytaert has owned this iconic club.
Transgender Infopunt (Joz Motmans and team)
In 2013, Dr. Joz Motmanz was appointed as the coordinator of the Transgender Infopunt, housed within the UZ Gent. It has grown into a neutral institution that's accessible to anyone with questions about transgenderism or gender identity. This year, the infopunt celebrated its tenth anniversary, providing ample reason to nominate Joz Motmans and his entire team for our icon award.